To get an optimal recording quality in Android, you can combine your external microphone with Open Camera application.
Open Camera is an open-source camera application (developed by Mark Harman) for Android phone and tablets with the features:
Photo Settings
Image quality
Set the image quality of saved JPEG or WebP photo images (default value is 90%).
Image format
Select the file format used for saving photos.
Save all images for HDR mode
If enabled, when using HDR photo mode, the three base exposure images will be saved as well as the final HDR photo. Note this will make saving the photo slower, especially if you activate options like "Stamp photos" or Auto-level.
HDR contrast enhancement
When to use a contrast enhancement algorithm for HDR. This can improve the appearance in cases where there is a very high dynamic range in the scene, and also gives an HDR look to the results.
Exposure bracketing stops
How many stops to subtract/add for the darkest/brightest image.
Panorama auto-crop
For panorama mode, whether to remove the way boundaries.
Panorama original images
Whether to save original images in panorama mode. Note this will make saving panorama photos slower. Also allows the option to save an XML file which can be useful reporting problems with panorama.
Front camera mirror
Whether to mirror the resultant photos when using the front camera.
Artist
Text to store in the image metadata for the artist tag (JPEG format only).
Copyright
Text to store in the image metadata for the copyright tag (JPEG format only).
Stamp photos
Stamp photo with date and time; and also GPS info if location/direction data is enabled.
Use addresses
If possible, use an address when stamping GPS locations. This option requires an internet connection. Note that if enabled, this requires that your device transmits location data across the internet to a third party in order to convert GPS coordinates to an address.
Video Settings
Video bitrate (approx)
Set the approximate video bitrate (higher will get better quality, but requires more disk space; may cause video recording to fail if bitrate not supported).
Video frame rate (approx)
Set the frame rate (FPS) of videos (maybe approx, not guarantee to be achieved, and may cause video recording to fail if the frame rate not supported). Note that this setting is ignored for slow-motion videos.
The maximum duration of the video
The video recording will stop automatically after the specified time duration.
Restart video after max duration
If the video has stopped after hitting the maximum duration (if set), this option will make the video restart, up to the specified number of times.
Maximum file size of the video
The video recording will stop and/or restart when the (approximate) maximum file size is reached. Note that many Android devices have maximum file size for videos (typically around 2GB or 4GB), but this option allows setting a specific value. Note that this option can't be used to increase a device's built-in maximum.
Restart on maximum file size
Whether to automatically restart when the maximum file size is reached (whether the device default max file size or user-specified).
Record audio
Record audio when recording video.
Audio source
Microphone to use for recording audio.
Audio channels
Specify mono or stereo for recording audio (stereo only supported on some devices).
Lock screen when recording video
When recording video, the GUI will be locked to prevent accidentally stopping recording. Swipe the screen to unlock. Note that video recording will always stop if the app goes into background or the screen is blanked.
Video subtitles
Create a subtitles (.SRT) file storing date and times and also GPS info if location/direction data is enabled.
Critical battery check
Stop video recording if the battery level is critically low. This helps reduce the risk of videos being corrupted if your device suddenly switches off due to running out of power.
Flash while recording video
If enabled, the flash will switch on/off when recording video (can be used to tell the camera is still recording at a distance).
How to Record Video and Audio on Android with External Microphone?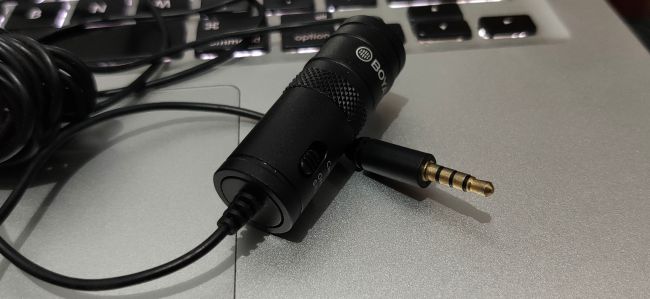 The following are the steps in recording video and audio on Android using an external microphone.
Download and install Open Camera application from Google PlayStore (the latest version on May 2020, is 1.48.1, with 2.7MB installation file size).
Connect the external microphone (you can choose budgeted external microphone, like Boya BY-M1 Lavalier) with your Android device.
Open Open Camera app and go to [Setting] – [Video settings] – [Record audio] : On. Also, select [Audio source] with External mic (if present).
Start to record video and audio respectively at the same time.