From the results of making videos produced from video editing or video maker applications may still be less than optimal because the output file size is too large.
If the video file is to be sent to other people, of course, it will potentially reduce or suck up the internet quota, including speeding up the file storage space quickly. For that, we need another application that can reduce the size or size of the video file. One of the best android applications that you can try on your device is "Panda Video Compressor: Resize & Compress Video."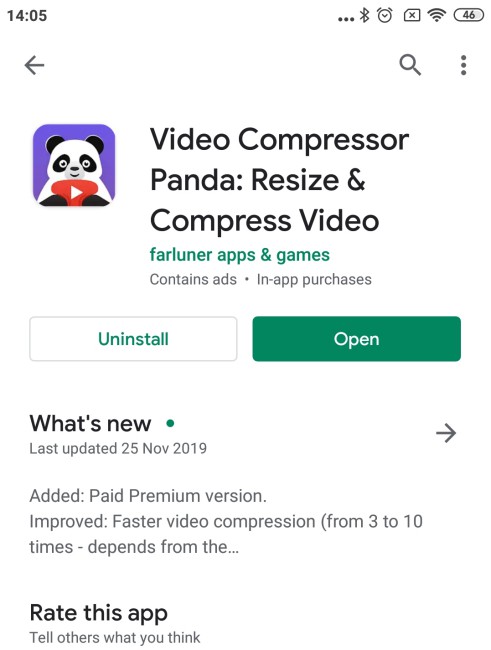 The application developed by videopanda.co based in Warsaw, Poland is claimed to be able to create videos with a size smaller than the original file size but without much reducing the quality of the video itself. The developer that makes this application have an aim of making more efficient videos so that it is suitable to be sent or shared to other people through various media such as email, Whatsapp, or to be uploaded to various social media platforms such as Facebook, Instagram, Twitter, etc.
From some experiments that I have done with this application, I can conclude that the output video output that is generated after going through the compression process with this application is quite significant in the term that the size of the video file becomes much smaller than the original size.
How to use it is quite easy. You can simply choose the original video file that you want to reduce in size. Then, after selecting [Next], we can choose several desired output quality options: Small File (Easy Share), Medium File (Better Quality), Large File (Just Compress), Fit to Email, and Custom Resolution.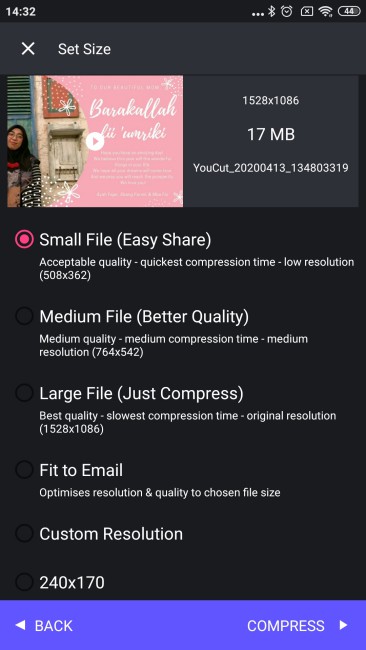 When I want to reduce the video file size of 17 MB, by selecting [Large File] I can still get a file with good video quality but the size is much decreased to only about 1.2 MB without reducing the resolution of the original file. Before the compressed file is saved, you can see a comparison between the original video and the compressed video through the [Compress] menu.
Once satisfied with the output obtained, you can save the video file by selecting [Save] which by default will be saved in the folder /storage/emulated/0/Movies/VideoPanda (this destination folder can be changed).