If your Mac has the separate ports between audio input and output, it will be easier to connect your external microphone. Just plug in the sound input port and finish.
How if your Mac has only 1 (one) sound port ?. If there is only headset plug with 3.5 mm port, you need a splitter to separate between audio in and out. Then, plug your external microphone to the splitter (icon with mic image) that connected to a 3.5 mm headset port in the body side of your Mac.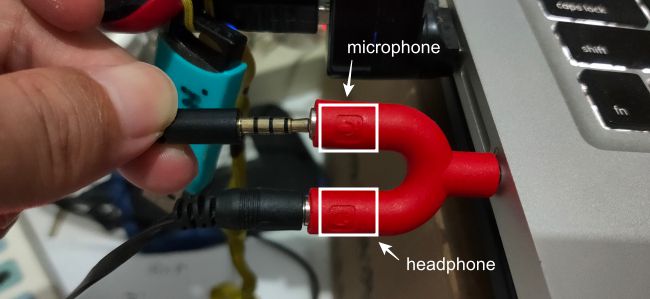 Check the new hardware has been discovered by your Mac. Click the [Apple icon] shown in the top left corner of your Mac screen. Then choose [System Preferences] – [Sound] – [Input]. When you use for the first time, maybe your external mic will not be detected automatically. If your device does not appear, reboot your Mac and see if the new device works. After appear, click your microphone's name listed in the window box. You can test by talking and seeing the blue bars will move up and down.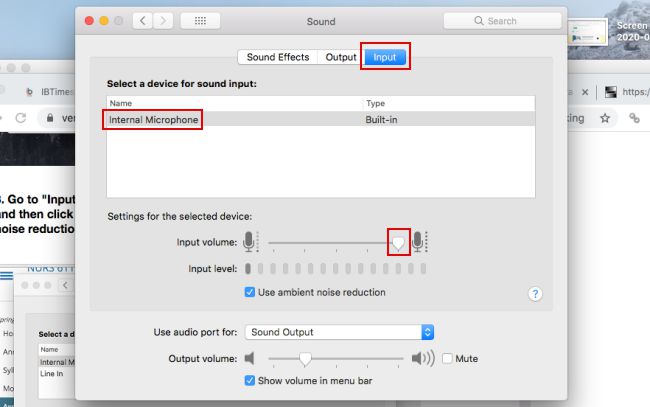 If the device still can't appear, you can select the Internal Microphone. Try to speak in front of your external microphone and check if the blue bars in the Input Level flashes and moves right and left. If the blue bars are moving up when you speak, then your external microphone is working fine. Otherwise, the microphone is malfunctioned. If needed, you can drag the input volume slider to the right to get the maximum volume level.
Another way in checking the function of your external microphone is by online. You can visit onlinemictest.com to start your test. If the line is responding when you talk, then that means your external microphone works.

Audacity
Audacity is a free and open-source digital audio recorder, editor, and mixer. It is a powerful software that comes with many lists of features, such as recording from an external microphone.
After succeed in trying external microphone, you can download Audacity from https://www.audacityteam.org/download/mac/ or https://www.fosshub.com/Audacity.html. Double-click the DMG file and drag the Audacity.app icon to the /Applications folder.
After the installation process finishes, in macOS, open Audacity and choose [Preferences] – [Devices]. Make sure that you select the same microphone device that you has been selected in the Mac – [Sound] – [Input]. Note : you should plug in external microphone before activate the Audacity.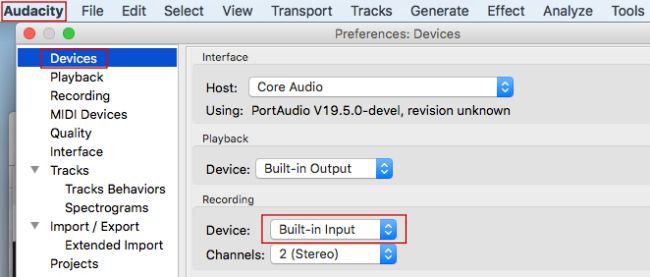 Also set [Preferences] – [Quality] as the image below:
 In the top of Audacity dashboard area, set [Recording Volume] 1.00. But if the maximum level will make input sounds distorted, you must lower the recording slider until no distortion can be heard.

After that, click [Click to Start Monitoring]. If you speak near your external microphone, you will see the sound wave bar with green colour move to the right and left alternately.

In the bottom of Audacity dashboard, ensure that the maximum [Project Rate] 44100.
Now, you need to quit or exit Audacity and relaunch or restart it. Open Audacity preferences again to ensure that the chosen settings are still the same. Then click [Ok].
Record Audio
To record your voice, click Record (red circle button) or the [R] key on your keyboard and you can start to speak from your external microphone. Speak near your external microphone. Try to speak normally with not too slow or too fast. You should see the movement on the meter. Press [Pause] button or the [P] key to temporarily suspend your recording. Click [Stop] or [Spacebar] when you want to stop recording your voice.

For the best result, you need a recording room as quiet as possible. In addition, make sure that the speaker function is turned off to avoid feedback sound.
See the Waveform to ensure that the recording levels are between 0.5 and -0.5 or averaging 0.3 to -0.3. If your waveform looks good, then listen to the audio track by pressing [Play] button.
How to Improve Poor Sound Quality?
Equalization & Compressor Plugin
You can try to go to [Effects] – [Equalization] – [Select curve] to increase the volume of certain sound recorded. Use the EMI 78 or other in the list of curve.
Other than it, you may use compressor plugin for Audacity.
The recommended value is -1dB for the additional setting.
After finishing all of the recording segment, then click [File] – [Export] – [Export Multiple] WAV (Microsoft) signed 16-bit PCM. Select your file location and name of the file. Then click [Export].