If you have, let's say, 2 (two) website and 1 (one) Youtube channel, then you want to use all of your properties above to earn money, especially Google Adsense, should you register one by one with different Adsense account ?.
Actually, If you have 1 (one) primary website that has been approved by Google Adsense, you don't need anymore to propose your other websites for Adsense program. As a publisher, we aren't allowed to have more than 1 (one) Adsense account with the same payee name. It means that although we place or paste an Adsense code both on the primary website and second site, Adsense will be noticed automatically that your second site connects to our existing Adsense account.
The above mechanism is also provided for YouTube channel. Adsense offers you to earn money by displaying ads on your video contents. You will get money when your channel visitors click on the ads.
If you already have an approved Adsense account, you don't need to request Adsense to make another one. As we know, the current steps in earning YouTube channels consist of 3 (three) stage :
Join the YouTube Partner Program
Set up an Adsense account for payments
Choose the videos you want to monetize
Please read and follow my step-by-step explanation below on how to connect your existing approved Google Adsense account with your YouTube channel (in my case, I also would like to reactivate and enable Monetization status due to "Disabled" status when I cancelled YouTube Adsense account before) :
1. Sign in to your YouTube account which your YouTube channel exists.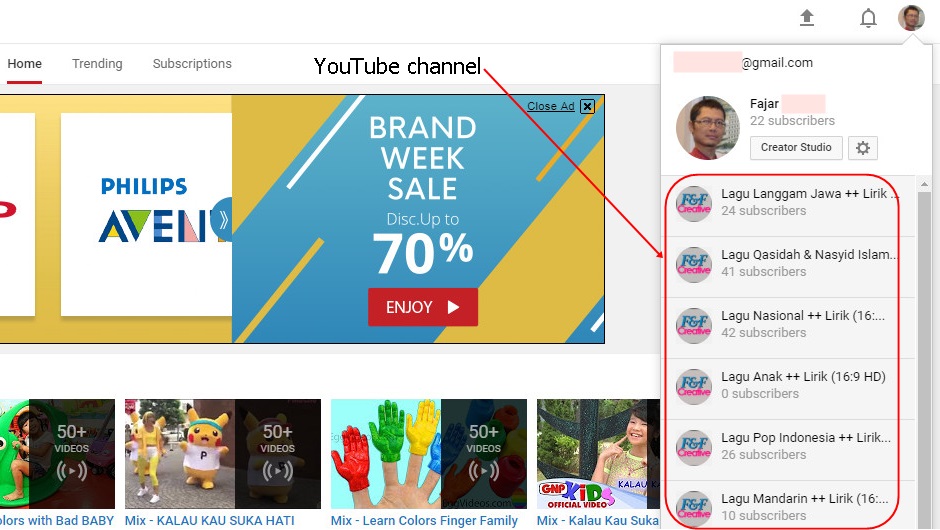 2. Choose your channel (having minimum 10000 views) which want to be monetized. 
3. In case your YouTube channel is "disabled", access https://www.youtube.com/account_monetization, and you will find the status below : Click "change the Adsense account associated with your YouTube account". You will see that your old Adsense Id is inactive. You should update your Adsense account with your approved one by clicking "Change" button.
4. You will redirect to Adsense registration page. Choose and click "Sign in" instead of "Create account" because you already have an approved Adsense account.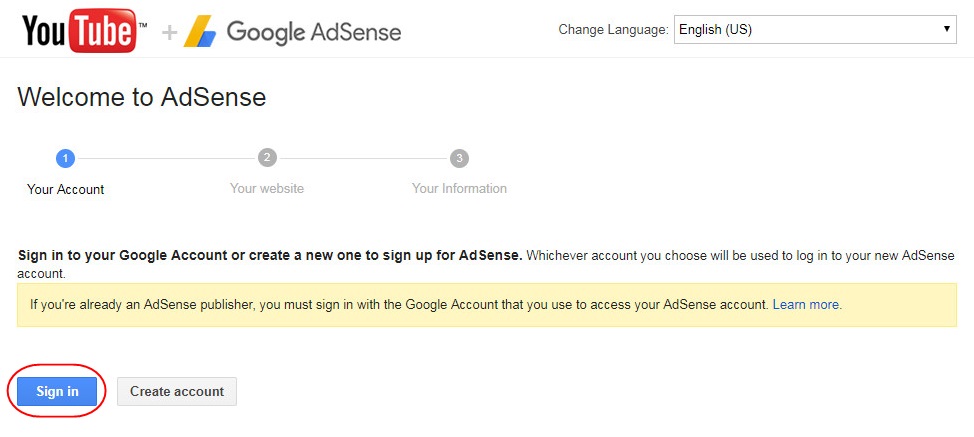 5. In the next screen, click "Accept association" (you should also check whether the email account appears at the right top is same as your email account). Wait a minute for the process of redirecting back to your YouTube.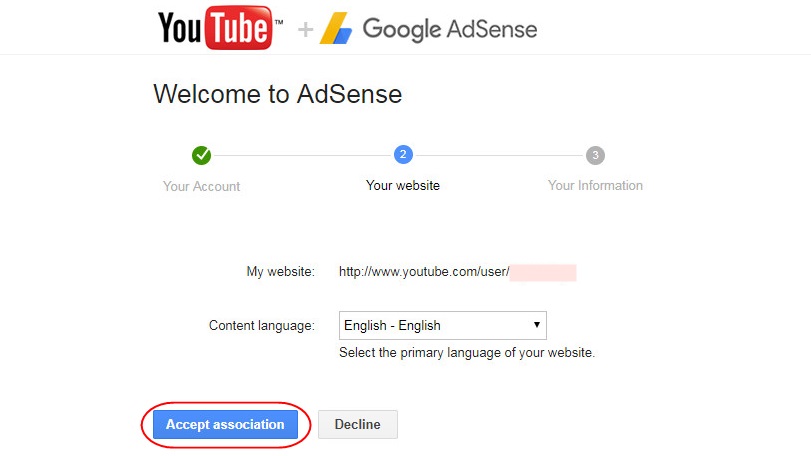 6. Now, you are informed that your monetization is enabled.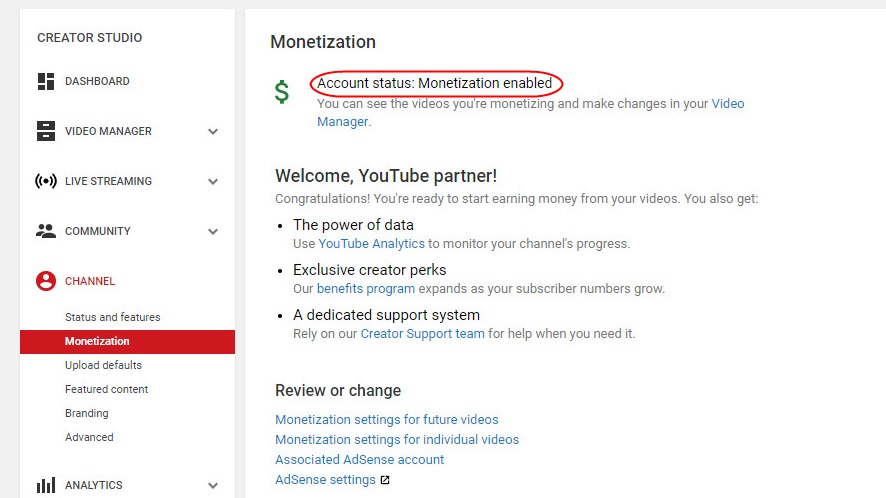 7. Click "Status and features" on your channel menu and you will see that your Monetization status is "Enable".
8. Click "Video Manager" and choose the individual video which would be monetized by clicking "dollar" icon.
9. Change the slider to the right position on the "Monetize with ads". Choose your preferred ad formats and click "Save changes" to finish your work. Now, one selected video on your channel has been monetized. Do the same process on the other videos.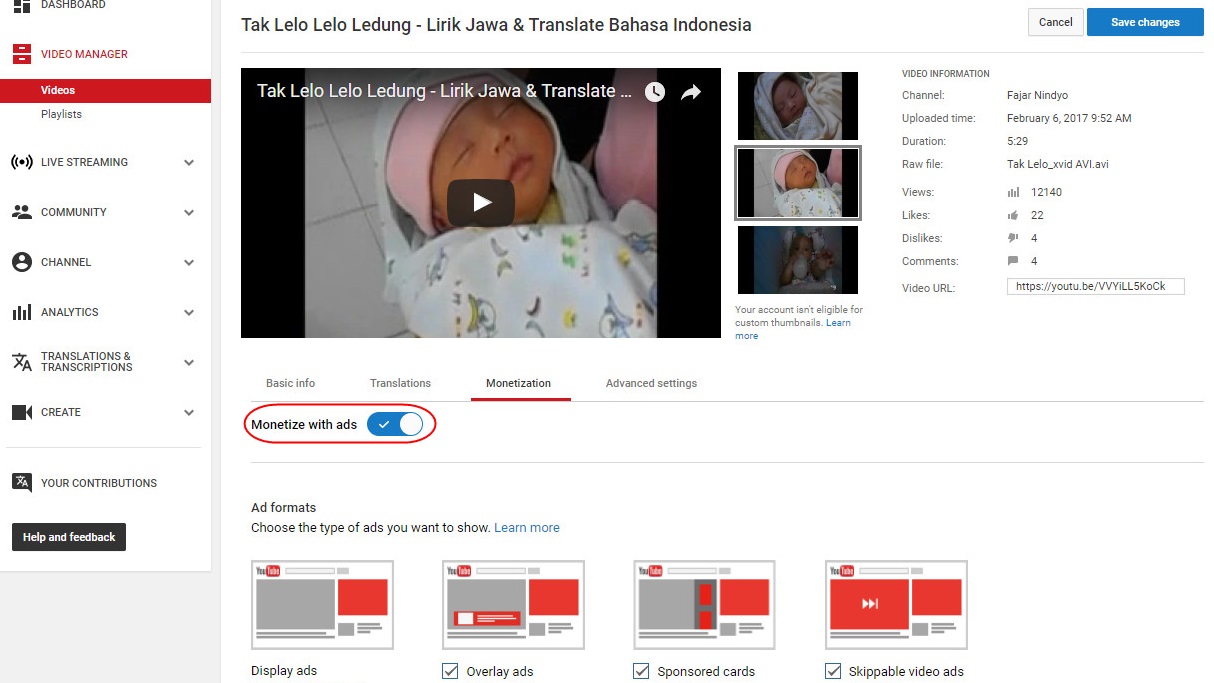 To check the monetization status, go back to "Video Manager". Now, you will see the dollar icon marked with green colour has been "active".