YouTubers must continue to hone their abilities and creativity in video editing before being uploaded on the YouTube channel they made.
One of the creative processes that YouTubers must have is to make videos with slow-motion effects. In a video recording, the slow-motion effect is useful for dramatizing a particular scene in the video concerned so that it attracts the attention of the viewers.
How To Create Slow Motion Video
A. Using Camera Settings in Smartphones
Many flagship smartphones now offer a special feature, slow motion (SlowMo), which can slow down video recordings. With this feature, the recorded video can be slowed down so that it can clarify the details of the movement of an object.
To check whether your smartphone has a built-in slow-motion feature is to look at the camera settings. For example, on the Oppo Reno 10x Zoom smartphone, there is a SLO-MO option that can be used to record normal video but after completion, it will be saved in a slow-motion video format.
B. Using Video Editing Applications and Softwares
What if your smartphone does not have a slow-motion feature in the camera settings ?. Don't worry too much. The recording speed with normal motion (1x speed) can be reduced by using a slow-motion video application both in PlayStore and computer software.
In this article, I will show you how to make slow-motion videos using computer software called Wondershare Filmora.
Open the Wondershare Filmora software.
Import the video file to be edited by clicking on the menu [Import] – [Import Media Files] – look for the video file in the storage folder location on your computer.
Drag the video to the Wondershare Filmora video track.
Click the track then click on the [Tools] – [Speed ​​and Duration] menu.
In the toolbox that appears, change the number in the [Speed] option from 1.00 to under 1.00, for example, if you want to slow down the video to 1/2 of normal speed, fill in the column with the number 0.50. After that click the [OK] button. Now in the Filmora track, the video bar track becomes longer (2x fold), meaning that the duration of the video display time becomes longer due to the addition of the slow-motion effect.
C. Using Online Services
If you do not install Wondershare Filmora software or similar programs on your computer, you can try using online services. One of them is Kapwing which can be accessed at https://www.kapwing.com/tools/change-video-speed.
Kapwing (this name was inspired by Bill Watterson, the artist of the Calvin and Hobbes comic) is an online collaborative platform for creating videos, images, and GIFs. With this tool, you can edit your videos such as resizing, trimming, etc, including creating slow-motion videos.
You can also share video files to your team in a single place. It is very simple because you can edit videos just a few clocks with no installation required, no passwords, and no technical skills. It works on every operating system and as of July 2019, users can remove the Kapwing watermark from their works for free.
All you have to do is upload the video you want to slow down to and then select a new speed value to be applied. After completion, the file can be downloaded again to be stored in a storage folder on your computer.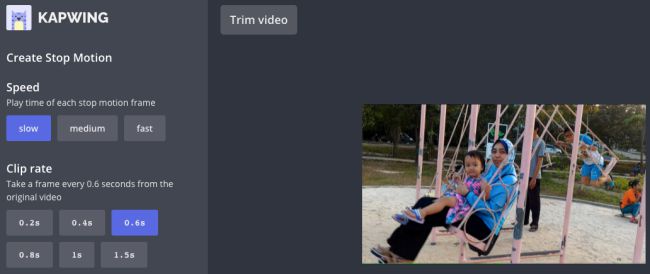 If you want to do the opposite of your video that is speeding up the recording from normal speed, then in the Android application, video editing software, or online service, you just need to change the speed value option from 1x to 2x, 3x, and so on.
Below is an example of a comparison between the normal (before) video and the slow down video (after) that I made at Wondershare Filmora.
Original video (before)
Slow motion video (after)