Creating animation is still an obstacle for most people, especially those who do not have special skills in making character designs for people, animals or other objects that want to be animated.
I try to make a simple animation without requiring any special skills in graphic design. The trick is to use 2 (two) main software, namely PowerPoint and Wondershare Filmora. Meanwhile, the materials for the animation can be found on the internet in the form of animated gif files (dogs) and background images (forest).
The following will explain the simple steps in making an animated film of a dog walking across a path in the forest using PowerPoint which will then be reprocessed at Wondershare Filmora.
First, we only need a few raw image files to be processed or edited in presentation software, namely PowerPoint. I chose to use Powerpoint in processing these images to produce a simple video animation in a fast and instant way without requiring special skills.
The steps taken are as follows:
Download an image file from Pixabay as a video background that we will create.
Download the dog gif animation file from Gambaranimasi (you can search also from other sources).
The editing or processing of animated images in PowerPoint is done in the following way:
Create a new presentation screen with a ratio of 16: 9 by selecting the menu [File] – [Page Setup] – [Slides size for]: On-screen Show (16: 9), then click [OK].
Right-click and select [Format Background] – [Picture or Texture] – [From File], then select the background file that has been prepared, then click [Apply].
Enter the dog gif image by selecting the [Insert] – [Photo] – [Picture from File] menu, then resizing it to make it proportional to the background. Place the starting position of the dog image in the outer area to the left of the PowerPoint screen.
Click on the dog image and select [Animations].
Since the animation is a dog walking straight from left to right (crossing the road) then select the menu [Motion Paths] – [Draw Line], then drag a line from left to right in a straight line. Drag the tip of the red dot until its position is outside the PowerPoint drawing area.
If the dog's movement is too fast, change the speed value in the [Duration] menu, for example from 2 to 15. Do a slide show preview until the desired composition of the image is produced.
Save to secure editing results in PowerPoint.
Next, is how to export the .ppt file into a movie (.mov) without losing the animated image. The trick is to capture a PC or laptop screen with screen recording software. One of them that can be used on macOS is QuickTime Player which has a screen recording feature.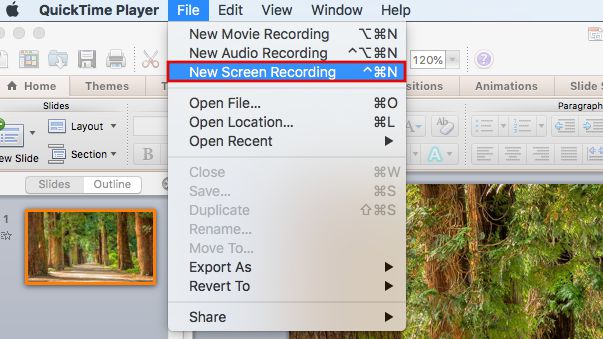 After being captured, the next step is to export the video file to Wondershare Filmora. Do the editing process by cutting unnecessary parts or adding sound effects to produce the final video as shown below. Good luck !.