When you are offered a hosting purchase package, you may be informed that your hosting server location will be located in city X, Y, Z, and so on. And the information of server location may be important for you when you decide to set the specific visitor based on targeted country. But how to know or ensure that the location of your hosting server is same as the hosting provider stated in their page ?.
Here's a simple way to find out the location of the hosting server you have been bought :
1. Open https://check-host.net/ in your browser.
2. Enter your domain name in the available blank field, eg "pojokasuransi.com", then click "Info" button.

It will appear a numerous data of the server information such as IP address, host name, IP range, ISP, country, etc. In my case, it shown that "pojokasuransi.com" is hosted at a server located in Jakarta, Indonesia with respective ISP (Internet Service Provider).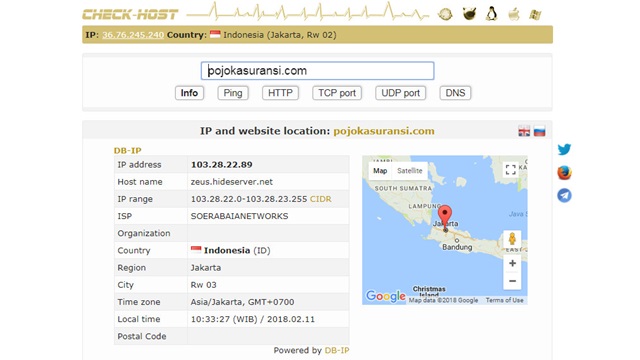 Check-Host is a simple and lightweight modern online tool for website owner in monitoring and checking the availability of hosts, DNS records, IP addresses. It supports the latest technologies such as localized domain names, hostname IPv6 records (also known as AAAA record).
Several features that can be used by website owner are :
1. Info, useful to check IP and hostname location such as IP range, ISP, organization, country, region, city, ZIP/postal code, time zone and local time (the real info of your server can't be seen if you set the original nameserver of your domain to CDN services like Cloudflare, Incapsula, etc).
2. Ping, allows you to check and test the accessibility of a host and to measure the round-trip time for messages sent from the originating host to the destination.
3. HTTP, was created for website monitoring and checking performance and availability of any URLs from many datacenters around the world. It allows you to monitor response time from various locations.
4. TCP Port, will check the possibility of a TCP connection to host's specified port from different locations around the world.
5. DNS, will retrieve and collect info about hostname or IP from nameservers around the world. You could easily monitor and check updates of DNS records with this tool.