For WordPress user that installed themes equipped with full widget position ready, ranging from sidebar, header, footer, top post, bottom post, and others, certainly, will not have much trouble when inserting or placing Adsense code. In a simple way, we can use default "Text" widget in our WordPress dashboard to insert that code (note : with "Text" widget, we are also able to insert scripts, such as Google translate code snippets). But how about WordPress themes which don't have complete widget slot position ?.
"Ad Inserter" is a WordPress plugin which has many features and options to insert Adsense code or other scripts, like Javascript, HTML, PHP, or any advert code, anywhere on your WordPress page.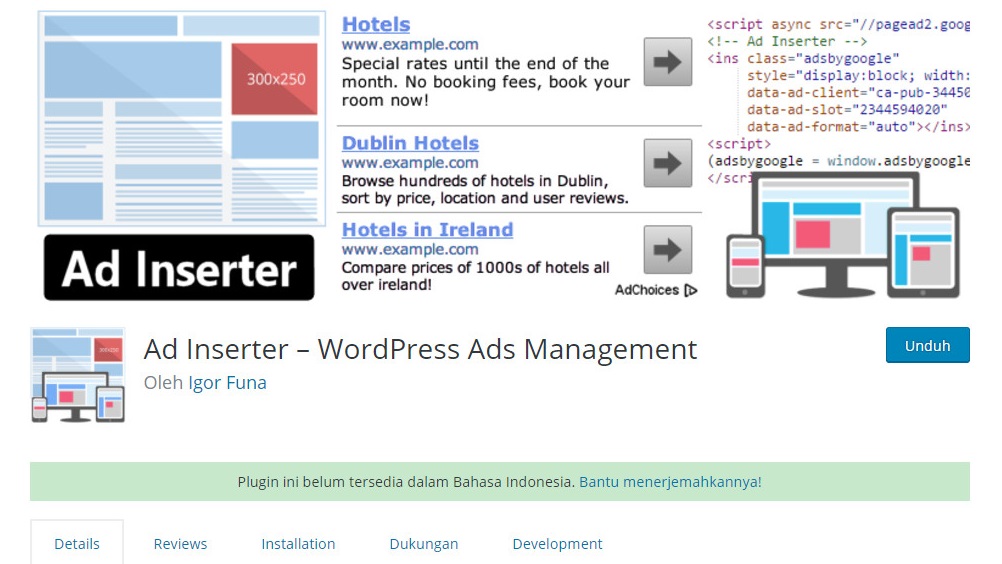 In this article, I would like to share on how to insert Google Adsense ad code on the bottom of your article posts in every page using Ad Inserter plugin. Here are the steps should be done :
Log in to Google Adsense account.
Click "My ads – Ad units – New ad unit".
Choose or select your preferred type of ad to be created : "Text & display ads, In-feed ads, or In-article ads".
Give a name to your ad unit which is easily identifiable. As an example, if you want to choose "Responsive" ad size and will be located at the bottom of every post on "yourname.com" site, you will name it by "Yourname Responsive Bottom Ad".
Choose "Text ad style" as you want both on text and background colour.
Click "Save and get code" button.
Now, you should paste the ad code into your blog. How to do that ?. Follow the steps below :
Download, install and activate "Add Inserter" plugin.
Choose "Settings – Add Inserter" from your WordPress dashboard menu.
Paste the code in the "Block" area.
Choose the following setting of your above ad :


| | |
| --- | --- |
| Automatic Insertion | : After Posts |
| Alignment and Style | : Center |
| On all Posts | : "check" |

Click "Save All Settings".
A display preview of the ad placement at the bottom of WordPress posts can be shown as the example below :