Maybe there are among you as a blog owner still faces difficulties when trying to place Google Adsense code.
To overcome this, Google Adsense now provides facilities for automatic ad placement so that publishers do not need to mess around setting up these ads manually. On the other hand, the presence of Google Adsense Auto Ads ads can help publishers to increase revenue for ads that appear on their website pages. Machine learning technology used by Google Adsense will help publishers to optimize their revenue through optimization of ad placement.
There are 2 (two) ways to place Google Adsense Auto Ads ads : (1) manual code insertion, and (2) automatic code insertion. To use the second method, you first need to get the Adsense Auto Ads code from the Google Adsense account that you have.
First, log in to the Google Adsense account page. Select the menu [Home] – [Ads] – [Overview] – [By site]. There you can see which websites have implemented Auto ads and which have not. Click the icon or pencil image located at the far right for Auto ads settings on certain websites.

An example of Auto ads will also be displayed on that page. You can change some settings of Auto ads such as optimize your existing ad units, ad formats, ad loads, and so on. If deemed appropriate, click [Apply to site]. Now the Auto ads have been declared active and just copy and paste the code to the website you have.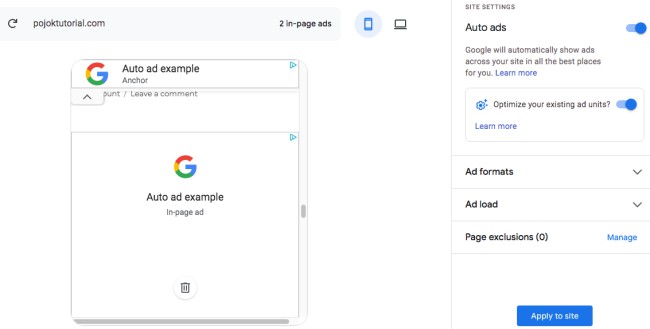 Click [Get code] after the menu of [Home] – [Ads] – [Overview] – [By site]. Copy it first in Notepad before pasting it to a plugin that will be installed on WordPress.

Next is to install a plugin called "Advanced Ads – Ad Manager & Adsense" made by Thomas Maier, Advanced Ads GmbH.

Once installed and activated, a new menu will appear in the header of your WordPress dashboard page then select [Advanced Ads] – [Settings] – [Adsense]. Enter your Adsense account code in the [Adsense account] option.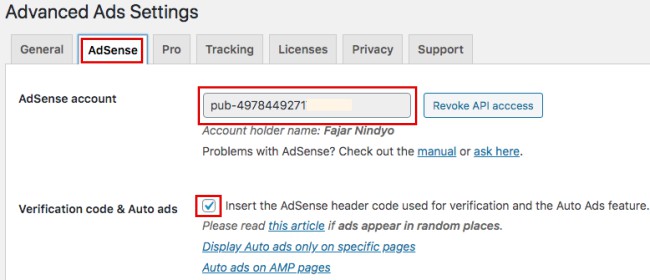 Next connect to your Adsense account by clicking [Connect to Adsense] where a request will appear to link Advanced Ads to your Gmail Account. Select [Allow] to grant access then copy the line of code which is the Confirmation code from Adsense. Then check the [Verification code & Auto ads] option. Click [Submit code] and finally click [Save settings on this page] to complete the process of setting Auto Ads on WordPress. The effect that will be displayed from Auto Ads is estimated to take up to about 48 hours.