I don't know why the developer gave the "HandBrake" name for the software they developed. But certainly, this software is a solution for everyone who works with any video files both on a mobile phone, tablet, TV media player, personal computer.
The icon of this software also unique, when you want to operate HandBrake, you will see the "cocktail and pineapple" icon. Why the icon used also doesn't show as a symbol of the software for video ?.
To use HandBrake is very easy and simple. First, you must download and installed HandBrake on your PC or notebook (I store it in my Macbook). HandBrake is also available for Linux and Windows. Just go to HandBrake website and select the proper installation file based on your OS. Now, the latest version of HandBrake is v1.3.2. You need macOS 10.11 or later, Windows 7, 8.1 and 10, or Linux Ubuntu deb. The file size is about 20.25 MB and you can verify the integrity of the download with SHA 1 and SHA 256 checksums. But the download integrity will be verified automatically when installing on Linux using the official PPA. For the security reason, you should delete the downloaded file if the checksums don't match the one given and published by HandBrake developer.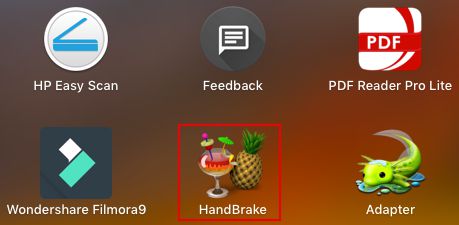 As a popular software, HandBrake works well with most common video formats. And the feature of HandBrake can be read as follow:
Convert any formatted video into MKV, MP4, and WebM.
Resize or crop video.
Restore low-quality video.
Adjust audio volume levels.
Etc.
How to Compress Video Files by HandBrake
There are several steps when you would like to compress your original videos by HandBrake:
1. Importing video source
The first step is importing original videos made by any your mobile devices like smartphones, tablets, digital cameras, DSLRs, etc, including digital recordings of Beta, Video8, VHS, LaserDisc, or other analog sources. Click [Open Source] button or drag and drop to select and open the original files in the main area of HandBrake.
In my case, I have a recording video taken by my Xiaomi Mi Max 2 with the original size is 31.7 MB, MP4 format, and H.264, AAC codecs, FPS 30, and display resolution 1280×720. Then, I open the file by choosing [Open Source] – Browse the file – [Open] in the HandBrake dashboard.
2. Choosing a preset
HandBrake provides a number of Presets both for general use or specific devices. For example, if you would like to play your videos supported by 1080p HD, then choose the relevant preset under [Preset] – [Devices]. If the device is not listed by HandBrake, or you want to play videos on a desktop, the default Fast 1080p30 preset may be a good choice.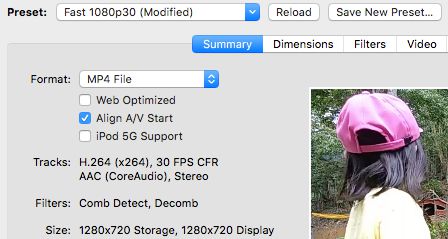 When I choose Fast 1080p30 as default preset, the file format will set to MP4 File in the Format column box. The Tracks will be filled in by default with H.264 (x264), 30 FPS PFR AAC (CoreAudio), Stereo.
3. Adjusting quality
To make your final video look consistent, you can use the default setting for the Preset. But if you want to adjust the quality (higher or lower), you can change the default setting. The consequences, if you increase quality, it will create a new video with a bigger size in bytes. While reducing quality will usually make the new video will have a smaller file size.
In my project, for Video Encoder under Video menu tab, based on the source video, I choose H.264 (x264) with Framerate (FPS) 30. I also tick Constant Framerate (VFR) for better compatibility with the original source. Enter a value of Average Bitrate (kbps) with 5000 (more than it will take longer to download video).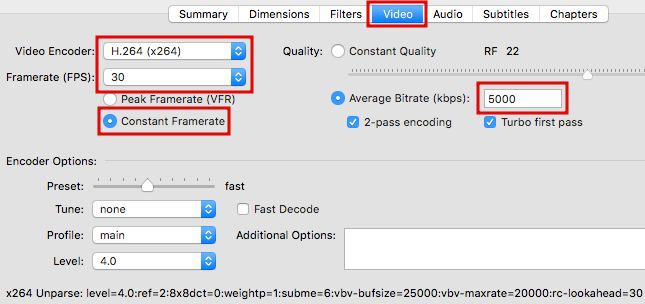 In the Dimensions menu tab, I change Anamorphic from Auto to Off and Modulus from 2 to 16. Also, there are no change in Storage Size both on width and height, but you also may reduce the display resolution lower than the source.

In the Audio menu tab, I choose 48 for Samplerate and Stereo for Mixdown. I also choose 320 for audio Bitrate.

4. Previewing the settings
Before you make sure to use the selected preset, you are allowed to perform a test run on a small portion of your source. Just click the Preview button located in the right top of the HandBrake dashboard to start opening the Preview window. If you see any lack of quality with existing preset, you may select a different preset. When finish previewing video, you can close the Preview window.

5. Starting encoding 
The last step is encoding video. Write the file name in the Save As column box and determine location by clicking Browse button. If you leave blank, the name and location will be determined by HandBrake.
After it, select the Start button to create the new video immediately. The encoding process needs from minutes to hours, depending on the computer resources. Once finished, HandBrake will alert you with a new video file name and the destination you specified.
Voila! I just compressed and encoded my first video using HandBrake!. The size of a new video file is decreased from 31.7 MB to 11.9 MB with no significant loss in quality.