PayPal is a virtual account that provides transfer services and payments by online. PayPal has a strong network in serving a variety of financial transactions across countries, where all of this has been done using electronic mail by online.
The method used by PayPal is very different from the traditional method, in which money transfers are still carried out using paper in the form of checks and money orders, which in general will require a relatively long amount of time in implementation.
Until now PayPal has become one of the most widely used virtual payment instruments by online marketers because transactions using PayPal have a fairly good level of security and are guaranteed when compared to similarly various system. Unlike other online banking transactions which are usually only limited to within one country, PayPal has an extensive network and can be done between countries.
This is the reason why many people use PayPal in their online business transaction because PayPal makes it easy to send money and also provides the best comfort and security for everyone. Transactions using PayPal will run easily and very smoothly as long as the user is always connected to the business that they are running.
PayPal can also help maintain the confidentiality of your personal data when conducting various online shopping activities, where payments through PayPal are made without the need to notify your various banking information that is usually stored on a credit card or personal bank account that you have.
To be able to use PayPal in a variety of financial transactions, you certainly must open and have a PayPal account, then place several funds in it for various purposes of the transaction that you will do. In some countries, PayPal is a little difficult to have because one of the conditions for opening a Paypal account is that potential users must already have a credit card in advance where a PayPal account will be verified based on the credit card you have.
Can Users Cancel PayPal Automatic Recurring Payments?
PayPal has an automatic payment feature or pre-approved payments where your PayPal balance will be automatically siphoned regularly. For example when subscribing to a service, you will be charged once a month, whether you use it or not. It's certainly very annoying, PayPal balance "stolen" suddenly even though it is not used at all.
In a real case that I experienced, I once bought a hosting package at a hosting provider company in the USA where billing payments can only be made via Paypal so that inevitably I have to use Paypal as the default payment method.
Because the PayPal account that I have is automatically connected to my credit card, at a certain date at the beginning of each month, notifications will be sent both to email and SMS on the cellphone about the credit card deduction for bill payments.
I began to think, what if one day I want to stop hosting services at the company? Does Paypal provide the option to cancel automatic recurring transactions like that? If it can't be stopped then I will experience a loss when one day I have not moved the hosting service but my monthly bill still goes to Paypal which automatically becomes a burden on my credit card.
In the process of searching for the above questions, at first I tried to access PayPal's web directly as an official company that became a means of payment to their merchants. Instructions on how to cancel recurring payment are explained at the https://bit.ly/cancelrecurring, they convey the steps to be able to cancel this transaction as follows:
Log in to your Paypal account.

Click [Settings] that near in the top of the page.

Click [Payments].

Click [Manage pre-approved payments].

Click [Cancel] or [Cancel automatic billing] and then follow the next instructions.
Whereas in the PayPal community discussion forum at https://bit.ly/paypalcommunity, some submitted information that as of September 4, 2017 must use the method below (each step requires a bit of a wait while the site catches up):
Click on the cog icon, top right of your account page.

Now look for the menu strip that located at the top of the page, second line down. It says ACCOUNT – SECURITY – PAYMENTS – NOTIFICATIONS. Click on PAYMENTS.

At top section in the page now has a bit word that says [Manage Pre-approved Payments]. Click on it.

From the list of 'My pre-approved payments' (some of which will have you thinking 'blimey, I don't remember giving them permission'), click on the one you want to cancel.

In the list of the merchant, near the top is a row for 'Status', and a link for 'Cancel'. Click [Cancel] to cancel your recurring payment.
But actually the instructions given both officially by Paypal and the Paypal user community have not been updated and cannot be done by the users. No menu really looks easy and helps or facilitates the user to cancel this automatic recurring payment feature.
Here Are My Methods
After a few tries, I'll show you the latest ways to cancel PayPal recurring payments, which are as follows:
First Method
Login to PayPal.

Once a successful PayPal login will usually appear some Paypal Activity history.

Click on one of the recurring payment data that you want to cancel, for example I want to cancel the recurring payment to DELCID, LLC, then click on this list.

On the "Transaction details" sheet, under Payment Status, click [View Recurring Payment Details].
Click the [Cancel] option on the left side of View history. A question in a new page will appear, "You're about to cancel this recurring payment plan. Once you cancel this profile, you won't be able to reactivate it. Do you want to continue? " Select [Yes].

New information will appear that reads, "This recurring payment plan has been canceled and cannot be reactivated. No more recurring payments will be made."
Second Method
After logging in PayPal, click the gear on the left side of the Log out button. There are 2 (two) menu options, namely [Your Profile] and [Account Settings]. Select [Account Settings].
Next, in the left sidebar there are many menus, select [Money, banks and cards].
Scroll mouse to the bottom, Pre-approved payments will appear then click [Set Automatic Payments].

Select the merchant transaction whose status is still active and you want to cancel the recurring.

On the "Subscription details" sheet, on the left side of View history, click [Cancel].
Same as the first method, the final information will appear stating, "This recurring payment plan has been canceled and cannot be reactivated. No more recurring payments will be made."
Furthermore, PayPal will also send a notification to the user's email account that the recurring payment has been canceled along with the profile and payment details.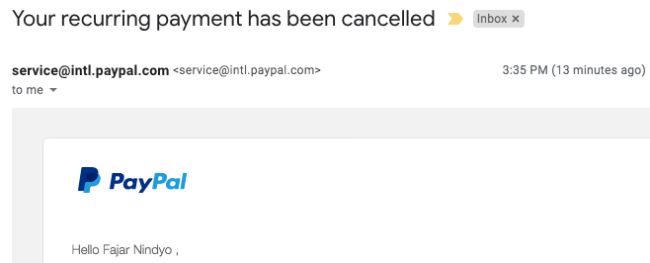 Conclusion
Although PayPal provides the option to cancel automatic recurring payments, it is difficult for users to obtain or get menus that are really easy to find while the official instructions explained by PayPal have not been updated so the user must find out until they actually find it based on the method found by themselves.